JOB PURPOSE
The selected candidate will be responsible to on-site coordination and tracking of GGIAL towards closing incidents by coordinating with stakeholders and also coordinate with local SMEs for problem tickets whenever any major incident ticket occurs
ORGANISATIONAL CHART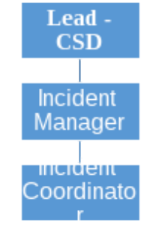 KEY ACCOUNTABILITIES
Central Service Desk (CSD)
Reports to Incident Manager
Participate & Program to migrate GGIAL service desk model to centralized model
Contribute inputs, best practices, tools, and techniques to executive an effective CSD for service operations
Plan and support for the initiative of FCR tobe handle by CSD team

Incident Management

Monitors the effectiveness of Incident Management process and making recommendations for improvement Effectively manage diverse set of stakeholders, driving the closure of incident tickets within SLA, work closely together with on-site support team & client as well
Alert / Escalate as necessary to avoid SLA breaches, to the central Incident Manager & Service Delivery Head and OPS Manager
Collaborate locally with Customer & Service Delivery Head & OPS Manager to proactively identify roadblocks for quick resolution of incidents by maintaining the tracker and coordinate with WAISL SMEs to mitigate the roadblocks

Major Incident Call

For major incident, need to take and updates to Incident Manager and actively participate in the bridge meetings
After the incident resolution, coordinate the post incident review with respective SME(s) & OPS Manager, Problem Management has to be initiated to diagnose the underlying cause of the incident

Standardize CSD work process

Ensure all the customer complaints/issues are identified and addressed.
Effectively plan to execute IM process in a complex multi-location, multi-customer, multi-class of users environment
Minimize Customer complaint

Risk Management

Coordinate with respective SMEs to mitigate the risks identified and early resolution of Risks in operations

INTERACTIONS

External

Roles you need to interact with outside the organization to enable success in your day to day work

Airlines
Retailers
Service & Hospitality
Ground Handlers

Internal

Roles you need to interact with inside the organization to enable success in your day to day work

with L1 / L2 / L3 engineers
Internal Stakeholders
GGIAL Management
IT Department SME's
Service Delivery Head & OPS Manager

DIMENSIONS

Financial Dimensions

Not Applicable

Other Dimensions

Not Applicable

SKILLS AND KNOWLEDGE

Educational Qualifications

Bachelor of Engineering or Diploma in IT / Electronics

Relevant and total years of Experience

3-5 years total years of work experience.
3-5 Years of experience in Team Lead or Similar role(Mandatory).
Good communication skills
Must have ITIL v4 certified with experience & Knowledge of atleast one ITSM platform and able to implement processes (Mandatory)
Ability to multi-task and prioritize workload
Working in an Airport experience is desirable but not mandatory.